Doctor Spotlight: Karen J. Boselli
08.30.2021
Dr. Karen J. Boselli is a board-certified orthopaedic surgeon, practicing in Concord and Derry. Dr. Boselli earned her Bachelor of Science from the University of Notre Dame, and then her Doctor of Medicine degree from Georgetown University School of Medicine. Dr. Boselli then completed her internship and residency from the University of Pennsylvania, before her fellowship at Columbia University in Shoulder, Elbow and Sports Medicine.
Q&A
Q: When did you first know you wanted to become an orthopaedic surgeon?
A: Oddly enough, I actually interviewed a family friend and orthopaedic surgeon for a career project when I was in the 8 th grade. I'm certain that I had no idea what I actually wanted to do at the time! I decided fairly late – during the end of my 3 rd year of medical school. At the time, I was pretty sold on being either an OB/GYN or an internist, but after spending a month doing total hip and knee replacements on my orthopaedic rotation, I knew right away that I needed to change my plans.
Q: What were some challenges you faced along the way?
A: The path to becoming an orthopaedic surgeon has it's share of challenges for sure – sleep deprivation, long work hours, night after night of call. My mother would probably disagree (she's the one I would call when I was at my wit's end), but for the most part it was fairly smooth sailing! My shoulder fellowship was probably one of my most difficult years. Expectations were extremely high, but it was worth it for the training I received.
Q: What makes your patient care approach unique?
A: Some of my favorite aspects of patient care are (1) trying to explain things in terms that a patient can understand, (2) clearly laying out the options so that we can make a decision on the best way to manage an issue, and (3) believe it or not…reassuring a patient when they DON'T need surgery! Of course any surgeon (myself included) loves to perform surgery, but I actually get a tremendous amount of gratification at seeing the look of relief on a patient's face when I can find a non-surgical way to manage their diagnosis.
Q: What made you decide to focus on shoulder injuries?
A: Some of my mentors from residency training inspired me to pursue additional training in shoulder surgery. The shoulder is endlessly fascinating and challenging! I love the anatomy of the shoulder and the complexity of shoulder mechanics. I really love the variety of surgeries that can be done on ONE joint: arthroscopic procedures (rotator cuff repairs, instability surgery), fracture surgery, joint replacement, etc. It's amazing how complex this one joint can be. Shoulders can be tricky, but they always keep me interested!
Q: What is the most common injury you see?
A: It's not an "injury" per se, but the most common diagnoses in my practice would probably be a close tie between rotator cuff tears and shoulder arthritis. Two of my favorites to evaluate and treat.
Q: Can you walk us through a day in the life of KJB?
A: Well let's use today as an example…wake up at 4:30 am because my 1-year-old son is having some sort of sleep regression…attempt to rock him back to sleep to no avail…entertain baby for 2.5 hours…head to work for a day of shoulder replacements…answer patient calls, emails, dictate charts, drink coffee and eat candy (see below) between surgical cases…finish in the OR…run to the grocery store for 10 minutes…feed child, bath and bedtime for baby, cook a salmon dinner, clean kitchen, fold laundry, sit on the couch with my fiancé and have a glass of wine while answering these questions! My daily life has always been pretty hectic but definitely much crazier since my son was born. It's a juggling act, and a learning process, but I don't do well with sitting still anyway. I have become pretty adept at flipping the switch between "mom mode" and "surgeon mode" so that I can do my best to give my all to both my work and my family.
Q: What are you most proud of in your career to this point?
A: Difficult question! I'm really proud that I'm the first woman to be a partner in my practice. I'm proud that my parents are proud of me. And probably most of all, I'm proud anytime a patient tells me that they are thankful for what I've done to help them reduce their pain and improve their quality of life. It's extremely gratifying!
Fill in the Blanks
If I were not a doctor, I would be an interior designer or wedding planner.
My biggest pet peeve is people who chew with their mouth wide open…ugh.
The #1 song on my all-time playlist is: tough call. Can't say I have a #1 song on my playlist BUT my #1 karaoke songs are "Africa" by Toto or "Can't Fight This Feeling" by REO Speedwagon. I listen to a little of everything…pop, hip hop, rock, country, etc. These days I also listen to a lot of Raffi and Cocomelon, anything that keeps my son happy in the car!
One little known fact about me is I have a deep, deep candy addiction. I suppose this isn't a "little known" fact! Favorites include Swedish Fish, Charleston Chews, Milk Duds, sour watermelons, gummi worms, the list goes on and on! Hopefully my dentist won't be reading this!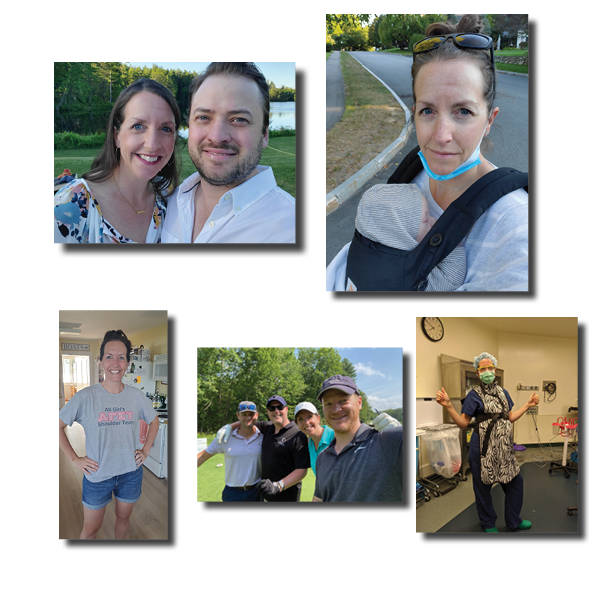 Back to news