Doctor Spotlight: Russell S. Brummett
04.26.2022
Dr. Russell S. Brummett is a board-certified orthopaedic surgeon, practicing in Concord, Derry, Raymond and Windham. Dr. Brummett is a graduate of Harvard University and University of Texas Health Science where he earned his medical degree. Dr. Brummett remained at University of Pennsylvania for his Internship and Residency, before completing his fellowship in Spine Surgery.
Q&A
Q: When did you first know you wanted to become an orthopaedic surgeon?
A: As soon as I realized that having a fear of heights and being an astronaut didn't work so well :-) Honestly, as young as I can remember I wanted to be a doctor. Through college seeing what the team ortho docs did looked pretty cool….so that was my initial interest in Orthopaedics.
Q: What were some challenges you faced along the way?
A: Paying off all the loans! More importantly, was finding a way to try and balance medical school, residency, and finally a busy practice with the demands of a crazy, busy family with 5 kids! Always a challenge, but both have been the joys of my life.
Q: What makes your patient care approach unique?
A: Informal and a more relaxed approach, I guess. I grew up in a small-town country in the Deep South and am anything but "fancy." I think that comes across in my approach with helping my patients to understand the issues they are dealing with….in a "real-life", straightforward way. I'm always honest and try to be super empathetic, but don't beat around the bush and waste their valuable time. And the old boots I wear, I've been told are pretty unique too!
Q: What made you decide to focus on spine surgery?
A: During residency, we are all exposed to the various aspects and specialties of orthopaedic surgery, and honestly, I loved them all (maybe except for the "stinky feet, foot/ankle service"). During all those rotations, I found myself most drawn to the challenges, and at times high-risk aspects of spinal surgery…. but the reward of seeing patients get their lives back made me really fall in love with complex spine issues.
Q: What is the most common injury you see?
A: That's another aspect that I love about spine surgery…. the variability of issues faced. I never know what I'll run into on any given day. Kind of like Forrest Gump and a Box of Chocolates :-) .If I was forced to guess, I'd say herniated discs of either the cervical or lumbar spine are some of the most common problems I deal with in Spine surgery.
Q: Can you walk us through a day in the life of Dr. Brummett?
A: All 5 days are different since we cover various offices and OR's around the state but in general….
After I hit the snooze button 2 or 3 times, I roll out of bed and jump in the shower disappointed that I didn't do that early morning exercise I had planned J.Ironically, even after all these years of early mornings, I'm still not a morning person!!!Several cups of coffee later, on the drive to one of our offices/hospitals (Concord, Derry, Windham or Raymond), I'm ready to tackle the challenges of the office and try to help patients with any variety of conservative treatments (frequently depending on some of my very talented partners who are non-operative spine specialists – Dr. Nagel, Dr. Ma, and Dr. Tang).Other days are up and early and running to the operating room, which is my "happy place" ….I know that sounds creepy, but it's kind of like a carpenter who gets to go to his favorite workshop and do his best work…the most satisfying, and at times challenging/scary part of what I do.
Q: What are you most proud of in your career to this point?
A: I plan on going for a long time yet, but our careers certainly evolve as the years go by .At this point, now that my kids are all "grown-up," I'd have to say I'm most proud of being a good doc to those in my community and state, a good partner to my amazing group at Concord Ortho, and all while helping to raise those wonderful kids of mine. I'm not even close to perfect at any of those things, but certainly proud that I've always worked hard and given it my best :-)
Fill in the Blanks
If I were not a doctor, I would have to get over that darn fear of heights…..but I'd definitely be an astronaut!
My biggest pet peeve is peoples' intolerance of different perspectives/opinions/and ideas.
The #1 song on my all-time playlist is IMPOSSIBLE for me to answer…. anyone who knows me, knows that on any given day in the OR, I'm playing a crazy, eclectic variety of music. Country one day, classic rock another day, and very frequently 80's one-hit wonders. Although I was recently informed by one of the OR Xray techs, that my beloved 80's are now also considered "classics" …. when did that happen?!?!
One little-known fact about me is That I'm a left-handed, dog-loving, IPA enthusiast who treasures time in the woods hiking and exploring with friends…. wait, is that more than one?
I can't choose one, but my favorite food goes back to my roots….my Mom's Cajun Crawfish Ètouffee. Makes my mouth water just thinking about it!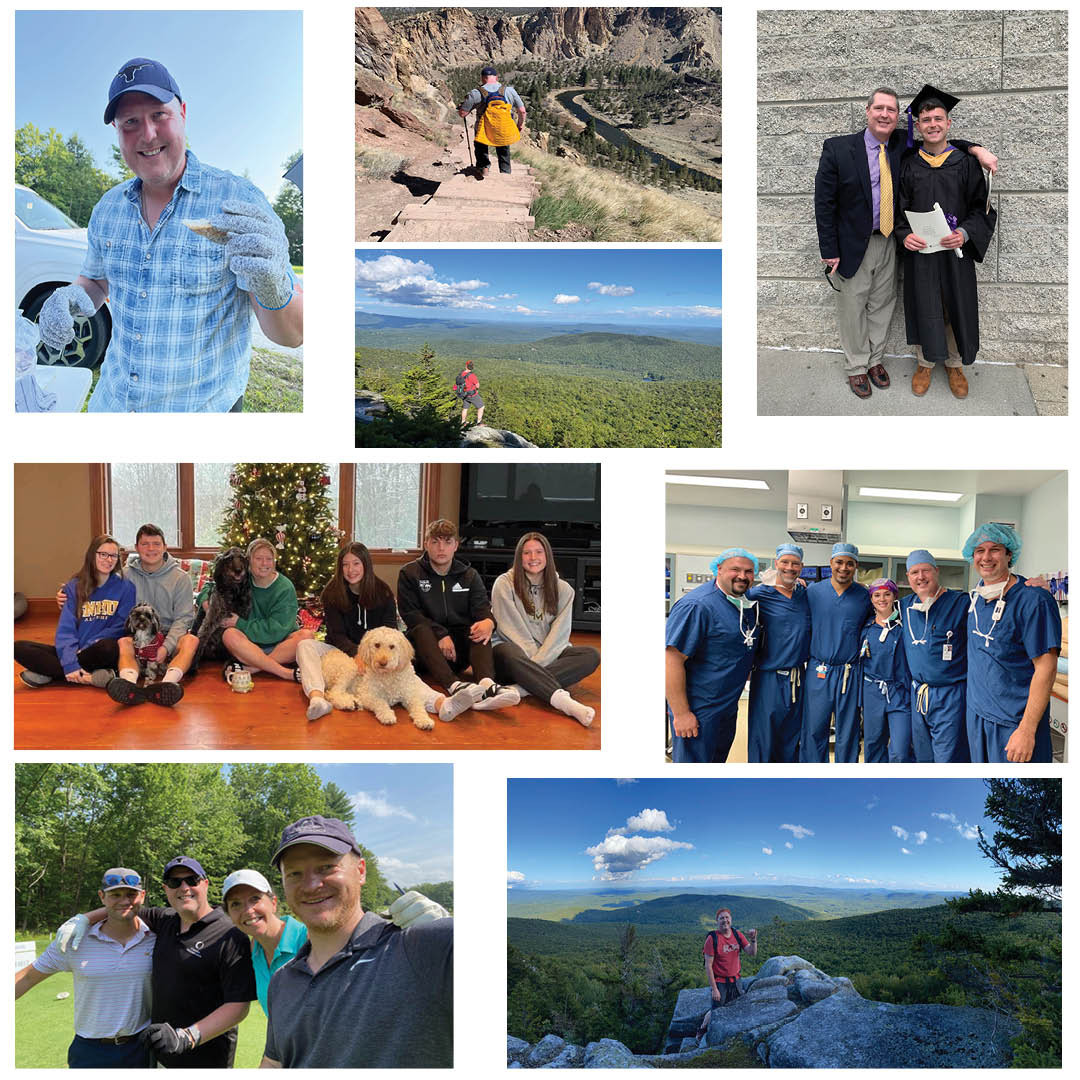 Back to news