SEAN T. BURNS, MD
Specialty: Orthopaedic Trauma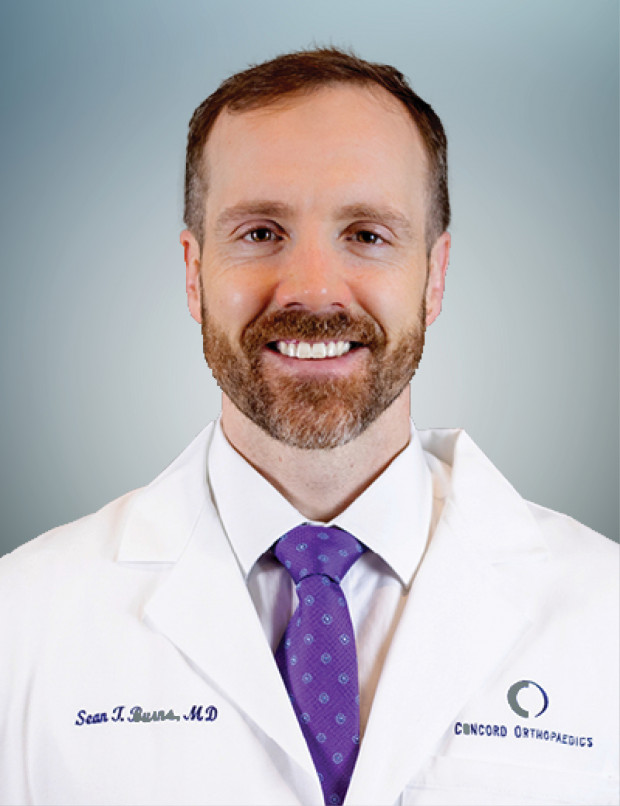 SEAN T. BURNS, MD
Specialty: Orthopaedic Trauma
Print
Contact
Specialty
Locations
Education
> Denver Health, Denver, CO> - Fellowship, AO Orthopaedic Trauma
> University of Texas Medical Branch, Galveston, TX - Residency in Orthopaedic Surgery
> University of Texas Southwestern Medical School, Dallas, TX - Doctor of Medicine
> University of Texas at Austin, Austin, TX - Bachelor of Business Administration
Certifications & Affiliations
Board Certified - American Board of Orthopaedic Surgery

---
AFFILIATIONS
Concord Hospital
New London Hospital
Orthopaedic Surgery Center
---
PROFESSIONAL ASSOCIATIONS
American Academy of Orthopaedic Surgeons
AO Trauma Faculty
New Hampshire Medical Society
New Hampshire Orthopaedic Society
Orthopaedic Trauma Association
Presentations & Publications
Yi C, Burns S, Hak DJ. Intraoperative fluoroscopic evaluation of screw placement during pelvic and acetabular surgery. J Orthop Trauma. 2014 Jan;28(1):48-56. PMID: 23360910
Judd KT, Burns S, Hand K. Finding a job in an overcrowded market: getting what you want. J Orthop Trauma. 2013 Oct; 27 Suppl1:S2-4. PMID; 23880556
Burns S, Thornton R, Dauer LT, Quinn Brian, Miodownik D, Hak DJ. Leaded eyeglasses substantially reduce radiation exposure of the surgeon's eyes during acquisition of typical fluoroscopic views of the hip and pelvis. J Bone Joint Surg Am. 2013;95:1307-11. PMID: 23864179.
Burns S. How to find a job after your fellowship. J Ortho Trauma:2012;26:S6-S8. PMID: 22713649
Yazaki N, Burns ST, Morris RP, Andersen CR, Patterson RM, Viegas SF. Variations of capitate morphology in the wrist. [Journal Article] Journal of Hand Surgery - American Volume. 33(5):660-6, 2008 May-Jun. PMID: 18590848
Presentation: "Initial Evaluation and Management of Pelvic and Acetabular Trauma" at the New England Orthopedic Society 2014 Fall Meeting, Omni Parker House, Boston, MA, November 22, 2014.
Presentation: "Tension Band Principles" at the AO Trauma Course - Basic Principles of Fracture Management for Residents," JW Marriott, Houston, TX, September 18, 2014.
Presenter & Table Instructor for "Principles of Fracture Management for Operating Room Personnel," Boston, MA, December 6-7, 2013.
Interests
Interests/Hobbies

Running (half-marathons), website design
« Back to Physician Search