Our Patient Stories


CHRISTOPHER'S JOURNEY TO HEALING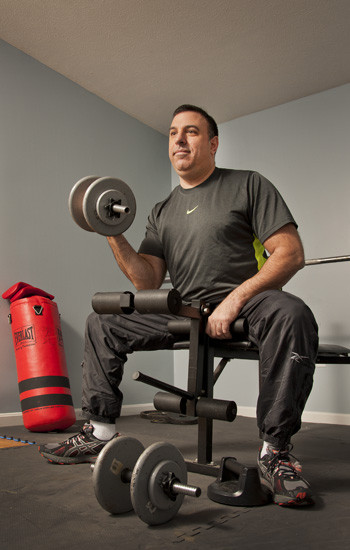 Most people approach surgery hoping they will emerge no worse than they were before their injury or ailment. Christopher M. got that -- and then some.
He sought surgical treatment in the fall of 2010 to repair a rotator cuff he had injured when a big ocean wave hit him while on vacation. In the recovery room, Dr. Karen Boselli told him that in addition to the rotator cuff tear, she had found a bone spur that probably had been responsible for nagging pain he had felt for years. She took care of that and fixed his rotator cuff at the same time.
"I actually feel better than I felt before I had the injury," Christopher said. "I can throw a ball and lift weights over my head now without any pain. For years, I couldn't do that without feeling some kind of pain or discomfort."
And that means a lot to an active guy like Christopher, who lifts weights and does push-ups to stay in shape, plays ball with his son and wants to be able to handle home repairs, like fixing his deck, without having to hire a contractor.
In the weeks after his run-in with the wave, Christopher couldn't move his right shoulder and couldn't sleep. Now? The pile of lumber and tools on his damaged deck and the bar bells on the living room floor show that the surgery worked well.
"Repairing my deck would have been difficult at best even before the injury and impossible after I hurt myself. I just could not have done it without the surgery," he said.
"Most important to me is the ability to be self-sufficient," he said, surveying the gutter and deck work. "Repairing my deck probably would have cost me thousands of dollars. I am putting my shoulder through the gamut, while being careful about my limits."
Even before he injured his rotator cuff, limits caused by the bone spur didn't just affect heavy lifting. Christopher is a systems administrator for the State, so he spends a lot of time at a computer. "Before I had the surgery, I could feel pain in my shoulder over a period of time just from using the computer mouse."
It wasn't a good feeling.
"There were times I said if I just worked out more I could over come it," he said. "It was hard, but I was accepting the fact that I just couldn't do some things," and worrying about keeping the house and himself in shape.
When he went to Concord Orthopaedics he gained confidence in by the way Dr. Boselli and other caregivers approached him and his injury.
"All of our discussions were based on what could be done and not what couldn't be done," he said.
Christopher is very grateful Dr. Boselli's knowledge of shoulder injuries allowed her to go the extra mile to fix all of his shoulder problems at the same time.
Which keeps him ready to fix things at home. "That's what matters to me," he said. "The fact that I can do home repairs. You've got to have that."
Christopher M.
Concord, NH
September 2011
---
JEANETTE'S STORY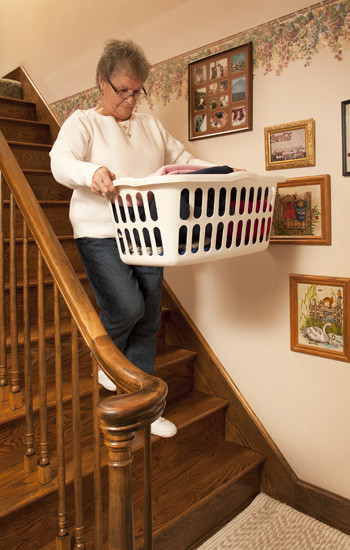 "All my life, I've had jobs that kept me on my feet. I thought an early retirement would be easier. I have a high tolerance for pain, but after living for years with such discomfort I finally went to see Dr. Jeffrey Wiley. He recommended a total knee replacement, which made me nervous. By October 2011, I was in so much pain; Dr. Wiley could see it on my face.

I can't say enough kind words about the care I received at Concord Orthopaedics and Concord Hospital. I've seen a lot of doctors over the years and by far Dr. Wiley is one of the best! He was so reassuring during every stage. And after my surgery, I needed less than three weeks of physical therapy; I couldn't believe it. Today you can hardly see my incision.

I can do so many more things than I could just a few short years ago, it's amazing. Before my surgery, even walking up and down the stairs was painful. Today, I'm not only walking up and down the stairs, I can even climb a ladder! I have more energy than ever before and I owe that to the care of such an excellent doctor. I'm so happy; I refer all my friends and family to him!"
Jeanette L.
Windham, NH
January 2013
---
BACK INTO THE GYM THREE DAYS A WEEK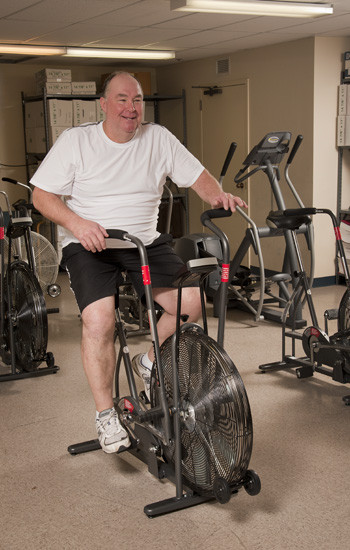 It was when John S couldn't walk 9 holes of golf because of knee pain, he knew something had to change. For years, with the help of Dr. Douglas Moran, he successfully managed missing meniscus of both knees, early onset of degenerative arthritis and total knee replacements, bilateral in September of 2005 by Dr. Jeffrey Wiley. In 2009, John had his right hip replaced under the surgical care Dr. Wiley also as a result of degenerative arthritis.
"The pain dragged me down. I stopped being able to enjoy life and do simple things like go places that required walking with friends and family. I had joined a golf league in 2003; by 2005 I had a hard time walking 9 holes. My entire mobility was being hindered. After my knee replacements I recommitted myself to a healthier lifestyle. I followed the doctor's orders to the letter and started a regular exercise program. There is a gym where I work. I'm there three mornings working out. I'm now able to lead an active normal life. It's been great! I can't say enough good things about Concord Orthopaedics. They are staying on top of the newest innovations and they are committed to making their patients whole again. I refer people to them all the time."
What makes John even happier today, he's back to playing in the golf league and can put in a full 18 holes without hesitation.
John S.
Concord, NH

January 2013
---
DR. DAVID BERLINER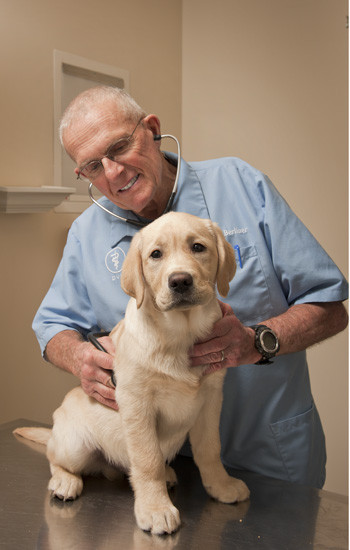 For 42 years, Dr. David Berliner has been giving comfort and care to some of Concord's most beloved family members at the Cilley Veterinary Clinic. So when it came time for him to get comfort and care back, he chose Concord Orthopaedics. As someone who gives special treatment to all his patients, he knows what constitutes great care.
"I have a special relationship with Concord Orthopaedics. They not only do it well, they do it right! In the fall of 2000, I had both my knees replaced. In 2011, when I needed a hip replacement, I wouldn't have gone anywhere else. Dr. Stephen Fox was my surgeon and I can't say enough about him. His skills are superb and he cares a great deal about his patients. My hip pain came on so acutely. In May I was walking normally. By June I was on crutches. The day after my total left hip replacement, I walked out of Concord Hospital unassisted. Within a few days I was back on my bicycle and since then I've never felt better."
And that's not just good news for Dr. Berliner, that's great news for the pets and animals he cares for as part of someone's family.
David Berliner, DVM
January 2013
---
---

PATRICIA'S STORY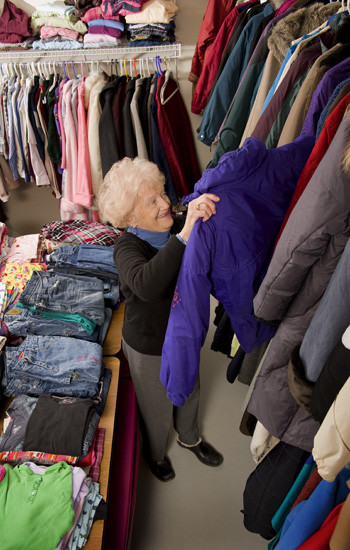 Patricia J often goes out of her way to help people, so she notices when people go out of their way to help her. Patricia is a very active 72-year-old who works in the church office at St. Katherine Drexel Roman Catholic Church in Alton. She also helps run the Coat Rack, an organization she co-founded four years ago at the church to provide coats, scarves, hats and mittens to those in need during harsh Lakes Region winters.
At the Coat Rack, she carries boxes and bags of heavy clothing, hangs coats on racks that line the walls and sometimes climbs a small ladder to retrieve clothing from shelves above the racks. But last year, all she could do was ask others to do the heavy lifting.
You could blame the problem on one of her other loves – gardening.
Patricia is a self-proclaimed "enthusiastic gardener," thanks to surgery approximately 15 years ago to repair auto accident damage to her shoulder and procedures performed at the Orthopaedic Surgery Center by Dr. Patrick Casey. The most recent procedures removed a painful bone spur from her ankle and repaired torn cartilage in her knee.
With her ankle and knee back in business in the spring of 2010, she was going at it, preparing her garden for flowers and vegetables. "I thrust the rake out forward and pulled it back and tore all of the surgery I had done in my shoulder. So I went and saw my good friend Dr. Casey in Concord and had it repaired."
But that's not all. When she called the doctor's office in pain a couple of days later, Dr. Casey called back personally and had her change her medication. Two days later, his office called to see how she was doing.
"It's not just the procedure and their professionalism. It's the follow-up care," she said. "It's the caring sincerity in their voices and that they are offering to help you."
Patricia, a retired postmaster, doesn't talk a lot about herself. But she's almost unstoppable when talking about the people she's been able to help at the Coat Rack, and the people who have helped her at Concord Orthopaedics.
"What I admire the most is that the staff at the Orthopaedic Surgey Center and Concord Orthopaedics are so professional," she said. "Even when you step up to the counter and give your name, they speak very softly and directly to you so the people standing nearby aren't listening to your personal information. It makes a big difference."
Patricia said the bone spur that first brought her to Concord several years ago left her with pain and difficulty walking. "Dr. Casey took care of that. My ankle is back. I can walk again. I have no pain."
And her knee? Dr. Casey already had fixed it once, several years ago, then Patricia tumbled down a flight of stairs, banging her knee on every step, causing more damage. "Dr. Casey went right in and fixed what was torn."
"I'm a head-to-toe walking reconstruction," she joked.
It wasn't easy to be sidelined before her surgeries and while healing, especially when she wanted to keep helping people.
As she showed off the Coat Rack to a visitor, she pulled a plastic tub filled with clothing from under a table.
"I couldn't have done that before my most recent surgery," she said. "I would have had to ask someone for help.' But not anymore. Look at me. My body has healed well and I'm able to do what I need to do."
Dr. Casey not only fixed Patricia's ankle, knee and shoulder. He fixed her life – putting her back to work at the Coat Rack: "This has been the most rewarding thing I've ever done."
Patricia J.
Wolfeboro, NH