TERESA TANG, MD
Specialty: Physical Medicine & Rehabilitation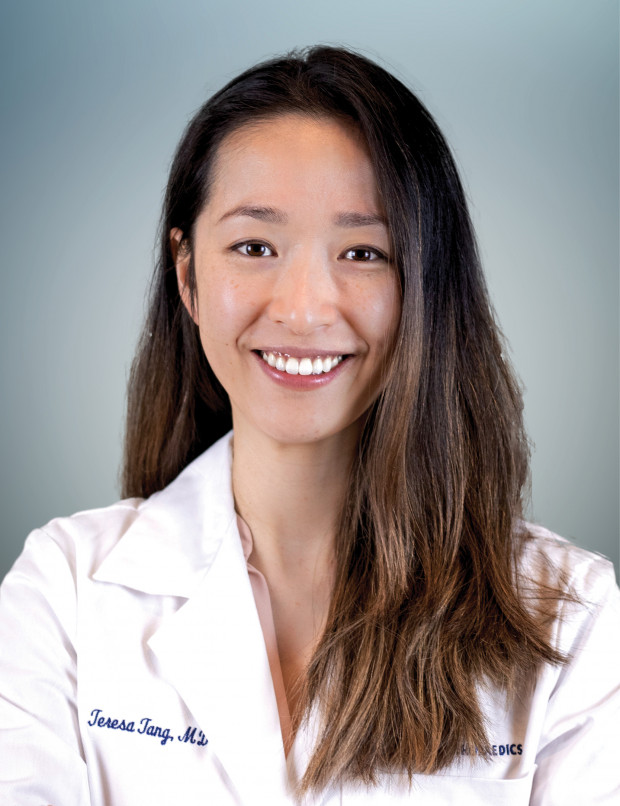 TERESA TANG, MD
Specialty: Physical Medicine & Rehabilitation
Print
Contact
Specialty
Physical Medicine & Rehabilitation
Locations
Education
> The Johns Hopkins University School of Medicine, Baltimore, MD - Fellowship in Pain Medicine
> The Johns Hopkins University School of Medicine, Baltimore, MD - Residency in Physical Medicine & Rehabilitation
> University of Maryland School of Medicine, Baltimore, MD - Internship in Internal Medicine
> University of Maryland School of Medicine, Baltimore, MD - Doctor of Medicine
> Wake Forest University, Winston-Salem, NC - Bachelor of Science in Biology




Certifications & Affiliations
American Board of Physical Medicine and Rehabilitation - Board Certified
American Board of Pain Medicine - Board Certified
Presentations & Publications
PUBLISHED WORKS
Cohen S, Odonkor C, Chen Y, Adekoya P, Mariscalchi B, Chaudry H, Tang T, Abruzzesse C, Cohen B. Causative Factors Associated with Lumbar Facet Joint Pain. Anesth Analg. 2018; 126(1):280-288.
Mudumbi S, Tang T. Medical Rehabilitation: Exercise Effects and Fatigue in Cancer Patients. PM&R Knowledge Now. September 2016. http://me.aapmr.org/kn/article.html?id=76.
Odonkor CA, Addison W, Smith S, Osei-Bonsu E, Tang T, Erdek M. Connecting the Dots: A Comparative Global Multi-Institutional Study of Prohibitive Factors Affecting Cancer Pain Management. Pain Med. 18(2): 363-373.
Mizelle JC, Tang T, Pirouz N, Wheaton LA. Forming Tool Use Representations: A Neurophysiological Investigation into Tool Exposure. J. Cogn Neurosci 2011;23:2920-34.

ABSTRACTS AND PRESENTATIONS
Tang T, Rojhani S, Yao A, Sprankle LA, Danielczyk S, Raikes K, Holliday K, Hoyer EH. Development and Initiation of an Opiod Overdose Prevention Quality Improvement Program on an Inpatient Rehabilitation Unit. Presented at the 2017 Association of Academi Physiatrists, Annual Meeting in Las Vegas, NV February 2017.
Odonkor CA, Ann Sprankle L, Rojhani S, Tang T, Yao A, Hoyer EH. Towards reducing harms: designing a quality improvement project to improve pain management and outcomes among chronic pain and opioid users in an acute rehabilitation program. PM R. 2016 Sep;8(9S):S332. PMID: 2763271.
Yao A, Odonkor CA, Rhojani S, Tang T, Hoyer E. Development and Initiation of an Opioid Overdose Prevention Program on and Acute Inpatient Rehabilitation Unit: A Quality Improvement Project. Presented at the 4th Annual National Summit on Safety and Quality for Rehabilitation Hospitals, Baltimore, MD, April 2016, selected for Preventing Harm Panel Discussion.
« Back to Physician Search